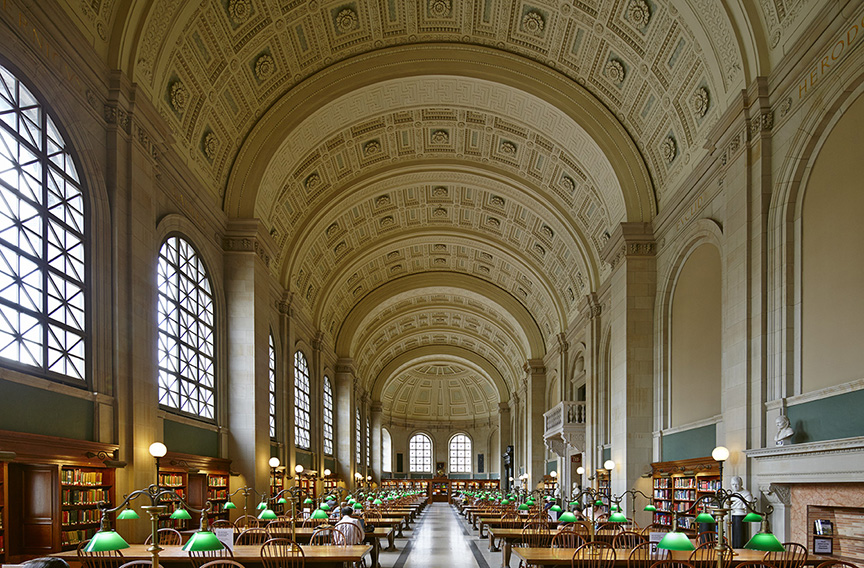 While on a recent architectural photography assignment in Boston, we decided to extend the trip to spend some time enjoying the city.  Our hotel was a block from the Boston Public Library in downtown Boston on Boylston Street.   Built in 1895, the library was designed by architect Charles Follen McKim.  Bates Hall (shown above) is acknowledged by many to be architecturally one of the most important rooms in the world.  With a majestic barrel-arched ceiling, English oak bookcases, and carved limestone, Bates Hall is stunning in every aspect.
How we captured the architectural photography shots we wanted
We scouted the library one day to determine our best vantage points for shooting Bates Hall and The Chavannes Gallery.  We wanted to draw as little attention to ourselves as possible.  And, we wanted the least amount of people and activity in the areas we were shooting.  Not easy as you can imagine this is a very busy place!  The following day we arrived just as the doors opened in the morning to get the shots we wanted.  With cameras in hand, Robert and I photographed as much as possible before the tours started and the book hounds descended.  A dream situation for an architectural photographer!  If you are in Boston and have some extra time and you enjoy architectural photography, take the time to visit the library.  Bring your camera – you won't be disappointed!
2 February 2016